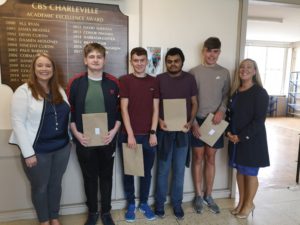 Leaving Certificate Results:
Higher than National Average for uptake in HL Leaving Cert Maths – 4 in ten students in our school. 3 in 10 nationally
All LC Students in the school got H6 or higher in HL Maths– all received 25 bonus points for HL Maths as a result.
This compares with 1 in 10 boys nationally with H7/H8
Significantly higher than National average in uptake of LC HL subjects for example: History (100%), French, Art (82%) , Applied Maths (100%) , Chemistry (100%), Construction (89%), Accounting (100%)
LCVP – 27% of our students acheived Distinction compared with 12% nationally. There were NO unsuccessful candidates in CBS Charleville compared with 7% Nationally
10% getting H1 in HL French, this is twice the National average for boys (5%) – 29 % or our students achieved H2 (12% nationally) 0% getting H6 (16% nationally)
0% of students getting H7 or H8 across a wide range of subjects at HL and OL – Irish, English, Maths, Geography, Applied Maths, Agricultural Science, Music
Over the last seven years over 80% of students who sat the Leaving Cert progressed to Third Level Colleges (Source: Irish Independent)
We are extremely proud of the fact that each of our students receives Guidance and support in ensuring they choose the right career path for them. On results day 2018, 7 of our students had begun apprenticeships and training courses in areas they excel at. Feedback and ongoing communication with local companies shows that these students are proving to be focused, ambitious and hardworking learners in the work force.